Welcome to our health education library. The information shared below is provided to you as an educational and informational source only and is not intended to replace a medical examination or consultation, or medical advice given to you by a physician or medical professional.
Fusing vertebrae in the cervical curve may help ease neck and arm pain. Two or more vertebrae in your neck are fused. Cervical fusion is usually done through an incision in the front of the neck. It may sometimes be done through the back of the neck, or through both the front and back. The surgery generally takes from 1-4 hours.
Cervical vertebrae
The Fusion Procedure
These steps apply to fusion from the front of the neck:
The disk is removed from between the vertebrae.
Bone graft is packed into the now-empty space between the vertebrae. In time, the graft and the bone around it will grow into a solid unit.
To help keep your spine steady and promote fusion, extra support (see below) may be used
The incision is closed with sutures or staples.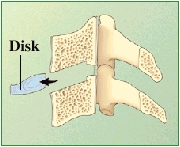 The disk between the vertebrae is removed.
Bone graft is packed into the now-empty space between the vertebrae.
Over a few months, the bone graft and vertebrae fuse into a solid unit.
If Extra Support Is Needed
Metal supports called instrumentation may be used to help steady your spine while it fuses. These supports are not removed. Your surgeon may use one or more types of support. The most common type of support used with cervical fusion is a plate.
Contact Wisconsin River Orthopaedic Institute at 715.201.3624 for your orthopaedic needs. For your convenience, you can fill out our online Request an Appointment form to book your consultation.