Welcome to our health education library. The information shared below is provided to you as an educational and informational source only and is not intended to replace a medical examination or consultation, or medical advice given to you by a physician or medical professional.
Arthritis is a disease that causes inflammation and stiffness in the joints. It often affects the joint at the base of the thumb, called the basal joint. Basal joint arthritis is most common in women over 40, but anyone can get it. Often it happens in both thumbs.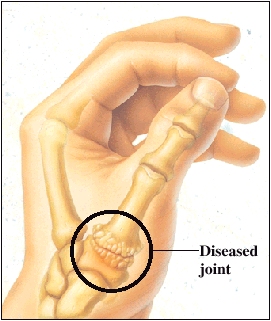 Causes
Basal joint arthritis occurs as a result of wear and tear on the joint. It is more likely to occur, and at a younger age, if you have fractured or injured your thumb. Repeatedly gripping, twisting, or turning objects with the thumb and fingers may make the arthritis worse.
Inside Your Thumb
The basal joint is formed by one of the wrist bones and the first of the three bones in the thumb. This joint allows the thumb to move and to pinch with the fingers. When arthritis occurs in the basal joint, it slowly destroys the joint.
Arthritis Destroys the Joint
The ends of the bones are covered with cartilage. This covering acts like a cushion, allowing the bones to move smoothly. Arthritis destroys the cartilage. Then the bones rub against each other when you move your thumb. This causes the joint to become inflamed and painful. This makes pinching and grasping with the thumb and fingers painful. With time, the bone in the thumb may collapse. Then you can no longer straighten your thumb.
Symptoms
The most common symptom is pain in the lower part of the thumb. You may feel pain when you lift something with the thumb and fingers, unscrew a jar lid, or turn a door handle or a key. You may find yourself dropping things. Weather may also make the thumb hurt. The joint may swell, and with time the thumb may become stiff or deformed.
Contact Wisconsin River Orthopaedic Institute at 715.201.3624 for your orthopaedic needs. For your convenience, you can fill out our online Request an Appointment form to book your consultation.